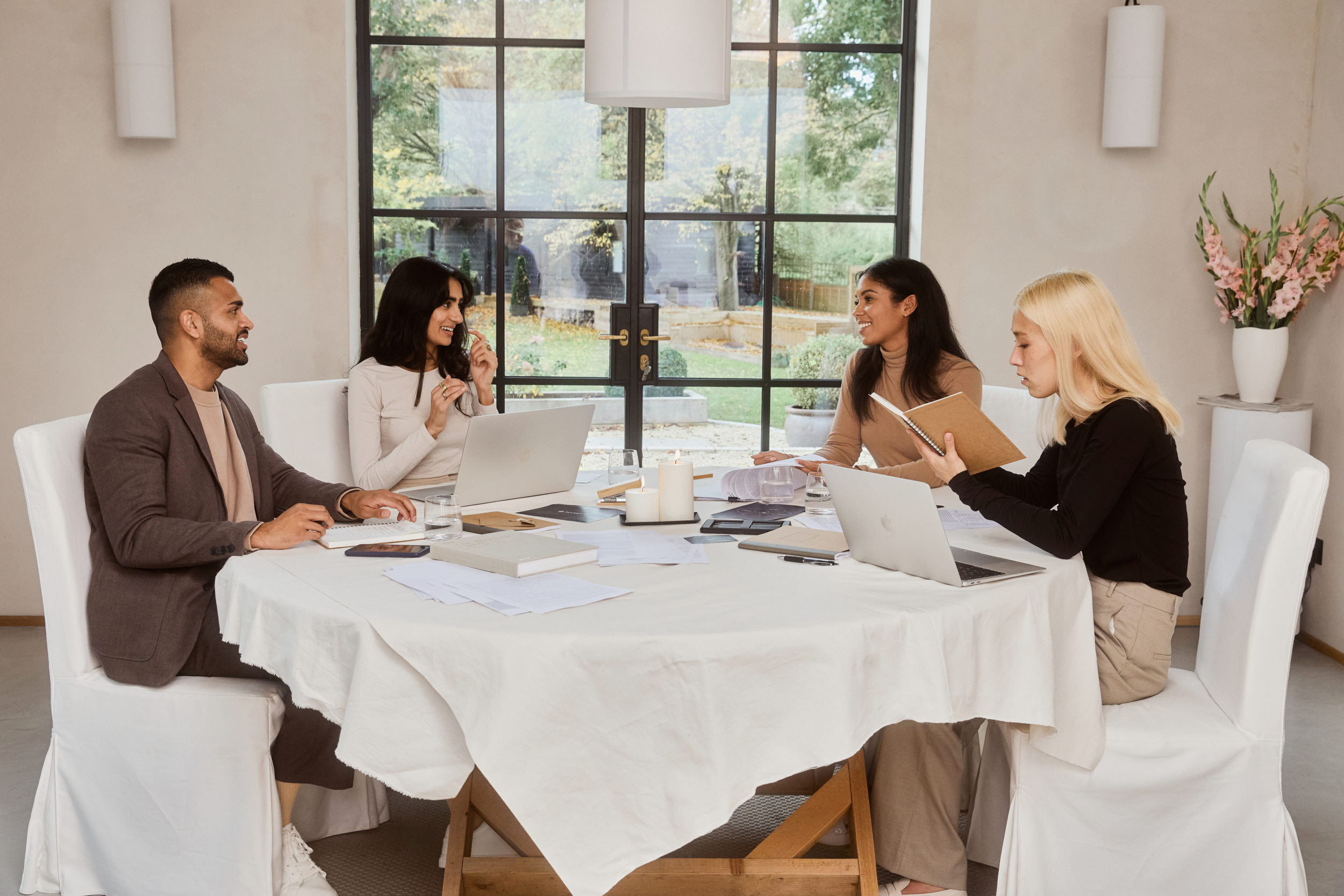 Advisory Board
Meet Our Advisory Board
Creating sustainable value and leveraging on shared guidance from world leading experts who advocate youth empowerment and aspire to see an alternative future outcome.
Michelle Marks

Director of Creative Strategy EMEA at Meta

Michelle is a creatively driven leader with a proven track record in utilising creativity to drive growth, build community and transform businesses of all sizes. She has diverse experience with leadership roles in Tech, Creative Advertising and Entertainment, across different disciplines and multinational teams.

Currently leading the business strategy for the creative team at Meta, Michelle is responsible for identifying opportunities to accelerate business transformation for brands creatively, technologically and operationally.

With a background in brand building and marketing, Michelle was previously the Marketing Director for Simon Cowell's media company SYCO and the Managing Director for the content and entertainment marketing company Red Bee Creative (previously BBC Creative).

Dr. Jeremy Sutton

Performance and Positive Psychologist

Dr Sutton is a psychologist and amateur endurance athlete specialising in performance psychology, positive psychology, and cognitive science. He focuses on developing the mindsets, tools, and techniques for individuals and groups to perform at their best, more consistently and in line with their values and well-being.

Firas Marafie

Startup Board Member & Advisor | International Partnerships Director | Venture Investor

Firas has a mixed tech and finance background. He has led markets and functions at start-ups and scaleups, and worked in banking and investments. His area of expertise is business development, commercial strategy, and partnerships. He loves hearing peoples' stories and connecting dots – perhaps a curious investigator in a past life.

Firas' cultural background is international, he has lived and worked in Kuwait, Dubai, the US, Singapore, and the UK. He has undergraduate degrees in Supply Chain Management and Computer Information Systems, and an MBA from the University of Cambridge. In his free time, he enjoys reading, writing, and exercising (currently boxing and rowing!)

Gülruh Turhan

Advisor at McKinsey & Co | Faculty Member at INSEAD | CTI

Gülruh works as a transformation agent, helping leaders and organisations become more effective and purposeful. She has extensive experience in consulting large global companies from diverse industries. She does address the topics both 'above and below the table' that lead to choices and change in organisations.

Her life and work is driven by the question 'what is possible?' She dreams of continuing to live her life, full of learning, expansion and enjoyment.

Murray Cook, MPHIL

Global Strategy Practitioner

Murray works in the strategy and scenario space helping people across sectors to reflect upon the future and what it means for their current strategy and leadership approach.

He is the Head Tutor for The Oxford Executive Strategy Programme and an alumni of Said Business School, University of Oxford. He facilitates The Oxford Scenario Planning Programme which asks Leaders to consider different plausible futures as well as a number of other programmes.

Murray is the Global Practitioner for Strategy at Strathclyde Business School mixing a practical and theoretical approach to learning and client engagement.

Recent work has been on algorithmic bias, engaging governmental organisations to consider diversity and inclusion. Murray has led a number of large scale, complex, transformation strategies and has deep experience of navigating players and partners.

He is also involved in setting up local food sustainability projects, reducing digital exclusion and runs a Philosophy for children group. His background is in philosophy focusing on the nature of self and time.

Dr. Amy-Jo Lynch

Founder + Wellbeing Coach, Be Your Own Date | Chartered Psychologist

Dr Amy-Jo is an independent Wellbeing Coach and Chartered Psychologist dedicated to empowering ambitious professionals and entrepreneurs to take better care of themselves at home and at work.

She has created Be Your Own Date - an online space for all things self-care and wellbeing. Amy- Jo previously worked as a C-Suite Executive Assistant at what3words, Marylebone Cricket Club at Lord's Cricket Ground and Academic Health Solutions, as well as a Senior Consultant at Perrett Laver, the global executive search firm, where she supported Sport England in their campaign to increase diversity across sports boards. Amy-Jo also created the BME Leadership Network to support both aspiring and experienced leaders across sectors.

Before joining the corporate world, Amy-Jo enjoyed a rewarding career on the frontline as a mental health and social care professional, supporting adults, young people and children. She holds a PhD in Psychology from the University of Kent, is a Qualified Social Worker, former Governor at St Marylebone CE School and is currently a Non-Executive Director at Sport for Confidence.

Dr. Mark Batey

Creativity, Innovation & Leadership | Academic | Speaker | Trainer | Coach | Consultant & Catalyst

Dr Batey is a Creativity, Innovation and Leadership Specialist. He combines leading-edge academic insight and expertise, with international practitioner experience as a speaker, consultant, coach and facilitator.

Mark has worked with organisations, teams and their leaders to help people learn creative problem-solving tools and techniques; coach senior leaders; run leadership programmes; design and deliver management conferences; help teams develop new products, services and processes through to consulting on creativity and innovation culture.